Founder of Sedona's Shamangelic Healing Center, Anahata Ananda blends the compassion and tenderness of an Angel and the wisdom and strength of a Shaman to guide profound journeys of core healing and spiritual awakening. Shamanic Healer and Soul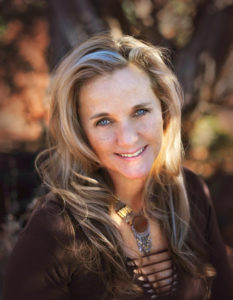 Guide, Anahata masterfully creates a safe and loving space for inward transformational journeys that empower individuals to release their fears, open their hearts and reclaim their power.
She has trained extensively with gifted Shamans, energy healers and spiritual teachers from North America, Peru, India and Asia in order to artfully integrate the fields of self-empowerment, Shamanic teachings, emotional release, energy healing, relationship counseling, spiritual studies, yoga, meditation and empowered living. In Sedona, Arizona, Anahata runs the Shamangelic Healing Center for Shamanic Healing & Spiritual Awakening where she is sought after for Her healing sessions, retreats, trainings and Sedona sacred land journeys.
Inspired Round Q&A:
Most Inspiring Book-
Favorite Song-
Best Resource-

Breath- when her mind gets in an unconscious pattern breath will clear her mind and bring her back. Breath is the bridge between heaven and earth.

Surprising Fact About Anahata- 

Mother of twins, the loves of her life and her greatest teachers. They taught her to meditate in utero so she would be calm enough to bring them to term and they've continued to teach her in life.

Most Important Thing to Know About Anahata-

This is her passion, Shamangelic healing. She wants people to know they are not alone, there are answers and they can do it. Shamangelic is both darkness, light and hope, so it takes both to grow. She's speaking honestly and humbly. We all struggle, you are not alone.

Daily Practice

Surrounds herself with inspiring people
Surrounds herself with images that reminds her what she really wants
Loves to move her body
Eats healthy (supplements and green juices) No guilt and shame if she has a thing
She ebbs and flows
Compassion – but not to stay in an unhealthy pattern for too long
Walks, gets in nature
Drinks a lot of water
Quantum meditation
Vision Boards
Writes her goals down
Unchosen certain content and people, very selective and positive
Daily breath work
Gratitude
 Interview Links:
Website:
Facebook:
twitter:
Instagram:
Thank You for Listening! Just One Favor…
If you loved what you heard, I'd love it if you'd share it using the social media buttons at the top or side of this page!
If you like what you're hearing on Inspired Conversations, I would be very appreciative of your Rating & Review in iTunes. Which will allow the show to reach an even greater audience! I will make sure to thank you by name for your (hopefully) 5-star review on an upcoming show!