Amy Swift brings a seasoned and in depth knowledge of hospitality, finance, fashion, beauty, lifestyle and consumer products to her work as a copywriter and brand strategist. She is a specialist at connecting with audiences through words and idea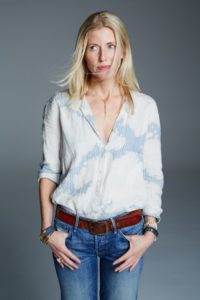 s, and creates both internal documents related to positioning, investors or brand guidelines as well as external messaging like websites, advertisements and collateral. Her work as a ghost writer for CEO's, personalities and celebrities puts her a niche category as one of the most trusted communications experts in the field, and demonstrates her capacity to get inside subjects point of view and craft effective stories and voices on their behalf. Amy is also the founder of SMARTY, a women's entrepreneurial network. She moderates panel discussions where entrepreneurial stars share their stories and journeys to audiences ranging from 50 to 300. She is the co-author of "Ladies Who Launch: Creativity and Entrepreneurship as a Lifestyle" (St. Martin's Press 2008), and a regular blogger on the challenges of small business and marketing. Amy is based outside Boston with teams in Los Angeles and New York City. (photo credit: Andrew Stiles)
Inspired Round Q&A:
Most Inspiring Book-
Favorite Song-
Best Resource-
Surprising Fact About Amy-

Because she's in a creative field people often ask her what she thinks of their visual identities and  she's a professional reactor and realizes it's part of her job and she doesn't want to say this is good and this is bad. She wants people to understand this is effective or this is not effective, because the circumstances vary according to audience, product, visual piece, medium (hangtag, logo, website etc)… (you'll want to hear her articulate this in her own words- brilliant and insightful).
When she's analytical about creative, she thinks of it like this 'Does it work or does it not work?'

Most Important Thing to Know About Amy-

She wants you to know you can subscribe to her blog at www.smartypeople.com 
Who even knows who she is, she has so much more to say but it's a different podcast….
 Interview Links:
Website:
 Instagram
twitter:
Thank You for Listening! Just One Favor…
If you loved what you heard, I'd love it if you'd share it using the social media buttons at the top or side of this page!
If you like what you're hearing on Inspired Conversations, I would be very appreciative of your Rating & Review in iTunes. Which will allow the show to reach an even greater audience! I will make sure to thank you by name for your (hopefully) 5-star review on an upcoming show!