After teaching and directing International Language Schools in England, Spain, Taiwan, Indonesia, and Thailand, Amy completed her Masters of Teaching Degree at Griffith University in Australia. Once she began teaching full-time in Canada, she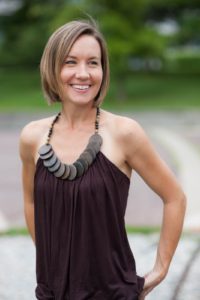 quickly realized there was an opportunity to connect the curriculum inside the classroom with her passion for traveling and helping others outside the classroom. Soon afterwards she started an organization now known as World Teacher Aid.
 World Teacher Aid was founded in 2006 with the primary goal of helping and supporting the educational system within developing countries. WorldTeacher Aid, primarily focuses in Kenya where the organization partners with the Government to build eight classroom schools. It has now built eight complete schools (that's eight classrooms and an admin block for each school), allowing over 3600 students a chance to go to school on a daily basis.
 Alongside the charity, Amy also founded Write to Give.  Write To Give is just one of a number of programs created to raise awareness within the school system about global issues.  This program itself has grown to involve over 6000 students from around the world and has published over 126 books, while also working along side Canada's largest children's publisher, Scholastic Education Canada.
 Amy is the proud mom of Marla, who is five and Sam, who was recently adopted from South Africa and wife to Stu McLaren. When not working on the charity, you will find Amy helping her husband Stu run his business, spending time with her family, traveling, reading and just enjoying the outdoors.
Inspired Round Q&A:
Most Inspiring Book-
Favorite Song-
Best Resource-
Surprising Fact About Amy-

 She's a downhill ski racer

Most Important Thing to Know About Amy-
Interview Links:
Thank You for Listening! Just One Favor…
If you loved what you heard, I'd love it if you'd share it using the social media buttons at the top or side of this page!
If you like what you're hearing on Inspired Conversations, I would be very appreciative of your Rating & Review in iTunes. Which will allow the show to reach an even greater audience! I will make sure to thank you by name for your (hopefully) 5-star review on an upcoming show!