Amy Flynn is a Facilitator of Consciousness, Change and Transformation. It is her passion to "awaken the world" to their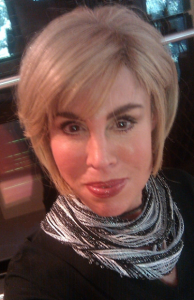 connection with Source and access the infinite, abundant, powerful and all knowing aspects of themselves. Amy embodies a loving energy and spreads instant joy with the energy she radiates. Known as a business and people healer, Amy quickly shifts clients into a higher vibration of love to awaken then to remember who they really are. Guided by her very strong connection with Source and her powerful energy gifts, she empowers those she serves to engage joyfully and powerfully with Life so they may experience manifesting success after success with ease and joy.
Amy is the voice channel for a group of nonphysical Source Consciousness known as "The Collective" who lovingly transform all they teach and interact with. The Collective are multidimensional Source Guides that Amy considers the "larger nonphysical aspect of herself". The Collective are infinitely wise, loving, fun-loving, always joyful and along with Amy, absolutely committed to everyone's expansion and evolutionary growth.
Amy and The Collective are the creator of many powerful programs, including the paradigm shifting Call of Your Being© Series, Time Alchemy: A Journey Out of Time, From Chained to Freedom, "Meditations That Work" including the Money Reiki Energy Meditation, Receiving Energy Alignment Meditation, Ideal Body Energy Meditation and The Instant Joy Process, and many more to numerous to list. Amy offers a proprietary process that completely clears trapped Emotional Energy from the physical, mental and energy bodies quickly producing astounding results in health, wealth,wellbeing and life in just one or two sessions. Amy and The Collective's programs work on both the unseen energy level and the experienced physical level simultaneously. Amy is a Money Reiki Grand Master facilitating wealth consciousness through energy alignment. Amy is the publisher of the inspirational ezine "Energy Currents" and appears regularly on radio shows, Global Telesummits and on the Global Teleclass platform uplifting and transforming audiences worldwide.
This is a BONUS Episode, Amy will be taking you through a meditation she leads with her guides, The Collective. Sit back, relax and enjoy this meditation. Please note this meditation should not be listened to while driving, using heavy machinery, working out, or while otherwise engaged. Give yourself the space to relax in a quiet space and take advantage of this sweet journey!
Enjoy!
To catch my two part Inspired Conversation with Amy Flynn click here for Episode 83 & Click here for Episode 84! 
Interview Links
Thank You for Listening! Just One Favor…
If you loved what you heard, I'd love it if you'd share it using the social media buttons at the top or side of this page!
If you like what you're hearing on Inspired Conversations, I would be very appreciative of your Rating & Review in iTunes. Which will allow the show to reach an even greater audience! I will make sure to thank you by name for your (hopefully) 5-star review on an upcoming show!