Allana Pratt is an Intimacy expert who inspires open-hearted living, with delicious sass. Featured on CBS, TLC & FOX, this cum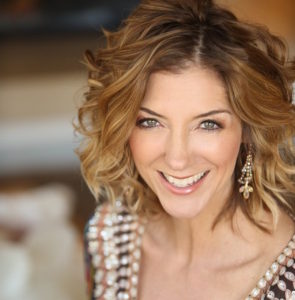 laude graduate of Columbia University is the Author of 3 books. She's a coach to celebrities is and the Host of the sexy empowering show "Intimate Conversations LIVE".
After working with thousands of men and women who struggle to open their hearts again in the aftermath of a harsh breakup, Allana helps them learn how to date again and find lasting love. She inspires women to embrace their sacred erotic nature to attract all the love and attention they can handle. She heals men's emasculated hearts, cures their 'nice guy', and awakens their 'noble badass' so they can create hot, healthy intimate relationships.
Allana's passionate devotion to helping men and women reclaim their joy, freedom and personal power is rooted in her own experience. Allana grew up insecure, ashamed of her body and afraid of men. She endured a brutal custody battle that threatened to compromise her joy, softness and feminine power. Yet Allana sat in the fire embracing the experience as a spiritual teacher. She emerged more courageously vulnerable and radiantly loving than ever before.
Allana's joy for life is contagious. She savors being a mother and pole dances for pleasure. She challenges and inspires her clients to be unapologetically true to themselves and to bow in reverence to their exquisite spiritual and sexual nature.
She's also a fellow podcaster with her Intimate Conversations Podcast.
In this podcast:
Get clear on your purpose is the embodiment of divine, God consciousness
Be on that edge of creativity and be the embodiment of God consciousness
I choose to be the delicious embodiment of God consciousness and how this statement changed her
Safety from the outside in
Safety and approval never come from the outside
Define safety, security and the sense of home with the divine on the inside
The science of deliciousness that you feel when you are at one with spirit
Sexual energy is our fuel
When you can live through the heart you can completely surrender with courage
Sacred sexual energy, while staying present, eyes wide open
Self-love, self-love of our body
Being in communion with your body
We will not ever have access to our courage if we keep a wounded heart
Learning how to navigate intense emotions
We need to heal our heart to find courage. Being present is half at choice and half, out of control
Energy will be transformed if you spar with it, dance with it and allow it
She's a surrogate relationship with the universe
The sliver that gets in the way of our growth is what we are talking about
Self-judgement is a form of control
When in right balance the divine mind is the servant to the soul and heart – when out of balance the egoic mind, terrified mind
Generally, the wake-up call comes in the pattern of a health issue, money issue, relationship issue that leads you to take a deeper look at the wounded heart
Inspired Round Q&A:
Most Inspiring Book-
Favorite Song-
Best Resource-
Surprising Fact About Allana-

She's so vulnerable and open there's not much people won't know about her
Her mom has been gone for 16 years, and people may not know that she still misses her

Most Important Thing to Know About Allana-

She loves you, when she lets go of judging she has so much love for people she hasn't even met. She's scared and uncertain too, she loves people so much!
Interview Links:
Book: 4 books
Website:
Podcast
Facebook:
twitter:
Instagram:
YouTube:
GoodMen Project:
Thank You for Listening! Just One Favor…
If you loved what you heard, I'd love it if you'd share it using the social media buttons at the top or side of this page!
If you like what you're hearing on Inspired Conversations, I would be very appreciative of your Rating & Review in iTunes. Which will allow the show to reach an even greater audience! I will make sure to thank you by name for your (hopefully) 5-star review on an upcoming show!