Adam Schaeuble, aka The PHD (previously heavy dude), is the host of the top ranked fitness podcast The Million Pound Mission.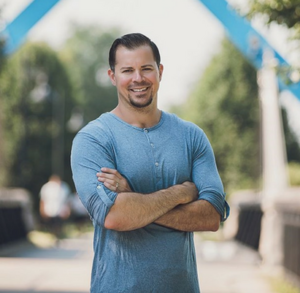 He reached a point in his life where he weighed 327lbs and was already having weight-related health issues in his late twenties. He decided to overhaul his lifestyle and his fitness and ended up losing over 100lbs.
Feeling inspired, he took what he learned from his own transformation journey and created a boot camp program that produced over 35,000 lbs of results in his hometown of Bloomington, IN.
Now Adam has set his sights on inspiring over one million pounds of healthy results through his podcast, coaching programs, and the Million Pound Mission Bootcamp.
In this Podcast:
Adam shares his rock bottom moment that transformed everything (hint: personal development was involved)
How his decision to take control of his life, changed the rest of his life
Lifestyle Rehabilitation Statement – what it was and the rules involved
The fuel he used to flip the light switch on in the moment he needed it most
How he reached all of his goals within 5 years
He's an ordinary guy wanting to make a million pounds of impact
He wants people to know that an ordinary person can be extraordinary and create an impact
Why accountability and showing up consistently are keys to your success
Adam is the people's champion, a regular dude creating results and inspiring people to do the same
The difference between motivation and inspiration
Why letting somebody else hold you accountable while on your transformation journey works best
He's addicted to impact, he's helped 15 people lose over 100lbs in his hometown
Million Pound Mission is a real mission – you can donate your weight loss to the mission
How he is tracking and being accountable to the Million Pound Mission
His current goal setting statement – 90-day sprints right now
He shares his accountability team in health and in business
How he mindfully creates his life
The black hole of fitness doom
Best Year Ever, Michael Hyatt is a good resource for setting productive goals
He shares why he's doing 8 marathons in 8 days to promote Tibetan Freedom
Inspired Round Q&A:
Most Inspiring Book-
Favorite Song-
Best Resource-
Surprising Fact About Adam-

In September of 2018 he's walking from his gym in Bloomington In, to Columbus Ohio twith His Holiness the Dalai Lama's nephew – it's 8 marathons in 8 days to promote Tibetan Freedom

Most Important Thing to Know About Adam-

He's an ordinary person, living in the suburbs, drives an electric car, lives a very modest life with his family. He's a regular person and wants everyone to know we can do things that are above our mindset and do extraordinary things. Go for it, get scared, do it and amazing things will happen.

Daily Habit for Mindset-

Gratitude
List 3 things he's grateful for each day at the beginning and end of day and why and it's got to be different each day
Interview Links:
Website:
Podcast:
Instagram:
Thank You for Listening! Just One Favor…
If you loved what you heard, I'd love it if you'd share it using the social media buttons at the top or side of this page!
If you like what you're hearing on Inspired Conversations, I would be very appreciative of your Rating & Review in iTunes. Which will allow the show to reach an even greater audience! I will make sure to thank you by name for your (hopefully) 5-star review on an upcoming show!