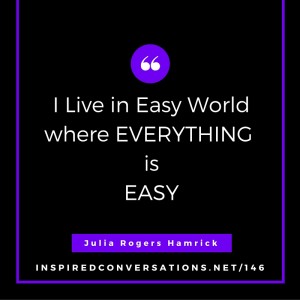 This inspiring concept of easy world comes from the amazing Julia Rogers Hamrick and if you didn't hear our Inspired Conversation you can hear it way back in Episode #4 I can't believe it was so long ago. However, I want to tell you I live and breathe in Easy World.
In this moment when we are in that time of year where people are setting new years resolutions, goals, intentions and everything you can think of and you're hearing everyone's opinions about doing it or not doing it or success factors and why they don't work etc. take it all for a grain of salt. Of course I highly recommend being intentional, setting goals and being on purpose! YES and you cant catch various mini episodes on those topics but I want to say unless you allow all those things to be easy just forget it! And this is where EASY World Comes in,,,
Choose Easy World where everything is easy. It's as simple as making the declaration to put it in easy world. There now you know the magic trick!
Again this comes for Julia Rogers Hamrick, you can grab her book Choosing Easy world! I use her Easy world daybook everyday and you wouldn't believe how manifestations happen when you release your grip and let it go in easy world.
It's such a simple concept and I wanted to bring it up because it's so easy for us to get wrapped up in our goals and attached to the outcomes of them. Whether we set them and never again look at them or whether we are the types to set and have accountability and measure our progress each week, either way a factor I believe needs to be involved is putting it all in Easy world and then stepping out of the way….loosening our grip and attachment of the outcome and allowing how the goals want to be achieved to come forth because sometimes it's not going to happen our way. And then this is where our personal resistance comes in…
Julia says "Easy world is our original reality matrix, it's what's provided for us to have joyful fulfilled lives where everything is provided effortlessly."
So as you are thoughtfully planning your year, planning your business goals and intentions or personal intentions put them in Easy World and see what happens.
It's a magical shift I'd love for you to experience! And you can only experience it if you put it into practice!
So if you want more about easy world you can go to Julia's website. www.iliveineasyworld.com she's got books, journals amazing meditations and also a daily email that is a genius daily easy world reminder.
Can't wait to hear how easy world supports your life!
Thank You for Listening! Just One Favor…
If you loved what you heard, I'd love it if you'd share it using the social media buttons at the top or side of this page!
If you like what you're hearing on Inspired Conversations, I would be very appreciative of your Rating & Review in iTunes. Which will allow the show to reach an even greater audience! I will make sure to thank you by name for your (hopefully) 5-star review on an upcoming show!