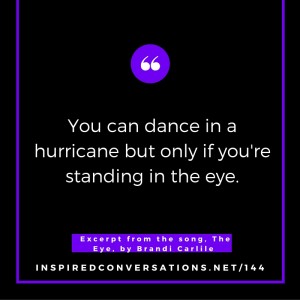 In this mini episode I talk about your center point. Where are you coming from? I love the line from Brandi Carlile's song, The Eye, "You can dance in a hurricane but only if you're standing in the eye…" I believe the eye is our center point. Are you coming from fear, anxiety and lack or are you coming from peace, trust and harmony? I've recently become very aware my center point has been control. A sort of control that I need to know what's going to happen. I need to know if I do this, that will happen and I've realized how hard that makes things sometimes and how that's not in surrender, trust or flow and let me tell you it creates difficulty in a lot of areas. I'd love to say my center point is always peace but it's not. Awareness is the key, the more awareness we can shine on this area the more we can shift our journey.
So I ask you, what's your center point? Is it working for you? Are you able to dance in the middle of your hurricane? Just notice and love wherever you are and allow your center point to become loving and supportive of you and your life.
Thank You for Listening! Just One Favor…
If you loved what you heard, I'd love it if you'd share it using the social media buttons at the top or side of this page!
If you like what you're hearing on Inspired Conversations, I would be very appreciative of your Rating & Review in iTunes. Which will allow the show to reach an even greater audience! I will make sure to thank you by name for your (hopefully) 5-star review on an upcoming show!