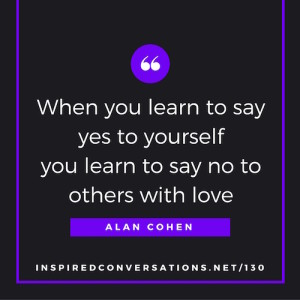 This episode is about knowing your NO! It's about having clarity on your boundaries. When you know where your boundaries are, what you will and will not do. Or what fits with your vision and intentions, it's easy to say no and not get pulled in a million directions.
It's about staying focused and not giving your power away!
Knowing your Limits and boundaries, a powerful concept.
There will always be distractions when striving towards you goals….saying no keeps you focused and on track. When you have clarity in where you're going your no comes easy!
Thank You for Listening! Just One Favor…
If you loved what you heard, I'd love it if you'd share it using the social media buttons at the top or side of this page!
If you like what you're hearing on Inspired Conversations, I would be very appreciative of your Rating & Review in iTunes. Which will allow the show to reach an even greater audience! I will make sure to thank you by name for your (hopefully) 5-star review on an upcoming show!