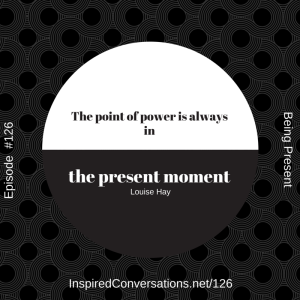 The power of being in the present moment.
Remember that being present is being right where you are right in this moment.
Notice the chatter in your head. Where are you now? Is your mind where you body is?
Are you thinking ten steps ahead of you or are you in the moment.
Practice being in the moment.
Finding joy in the moment or whatever feeling you are feeling in the moment. It might be feeling the anger or fear that you might be facing in a situation right now.
Being present is powerful and it's not outside of you. You can get there with one deep breath. Feel your body, feel the sun, the cool air. Get present by noticing where you are.
The present moment is all we have be as gracious, kind, loving, compassionate with yourself as well as with others.
Thank You for Listening! Just One Favor…
If you loved what you heard, I'd love it if you'd share it using the social media buttons at the top or side of this page!
If you like what you're hearing on Inspired Conversations, I would be very appreciative of your Rating & Review in iTunes. Which will allow the show to reach an even greater audience! I will make sure to thank you by name for your (hopefully) 5-star review on an upcoming show!