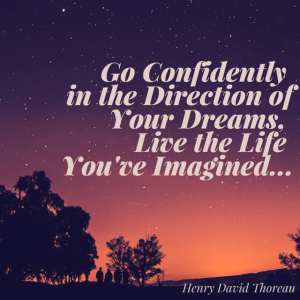 In this Mini EP. I breakdown this quote, "Go confidently in the direction of your dreams. Live the life you've imagined…" by Thoreau and apply it to life! I think you'll have a deeper understanding of the possibilities for your life int his quote!
Do you know your dream?
Are you living the life you imagined?
Are you discovering something about yourself to get there?
Owning where you are in your life?
Are you happy with who you are, where you are in your life right now?
What can you change to get on the path of your dreams?
What's my Dream?
What am I moving towards right now?
Are you going for it?
Connect with yourself! Who you are and what you are up to in life! Feel what you feel, no judgments on your feelings no matter where you are in your life right now.

Does your life serve you?
What do you want more of in your life?

Identify your Dream

Write it all down
What excites you

Do something, anything towards your dream. Take one step (if you feel stuck, say,"hmmmm, I wonder what's stopping me?"

Take a class, google it, ask a friend, read an article
It's time for you to live the life you've imagined!
I'd love to hear your dreams email me at amy(@)inspiredconversations.net
I hope this quote inspires you as much as it inspires me. ~ Amy
Thank You for Listening! Just One Favor…
If you loved what you heard, I'd love it if you'd share it using the social media buttons at the top or side of this page!
If you like what you're hearing on Inspired Conversations, I would be very appreciative of your Rating & Review in iTunes. Which will allow the show to reach an even greater audience! I will make sure to thank you by name for your (hopefully) 5-star review on an upcoming show!